What does it take to make a whole population healthy?
Mark Agathangelou, one of the citizen representatives on the Independent Information Access Group for London takes a look at what do we mean when we talk about population health, and why is it so important?
In July we will mark 75 years since the NHS was established to look after us all from cradle to grave. At that time it considered physical health and mental health although they were treated separately to each other. Today we understand that not only do physical and mental health have a major impact on each other, we also recognize that there are other factors outside our traditional view of healthcare that impact on how well we feel generally. For example whether you have a job or not, whether you have access to green spaces and if you live in good quality housing all impact on your overall health. These aspects are examples of the wider determinants of health, which is a phrase that is used to demonstrate all the different factors that impact on us.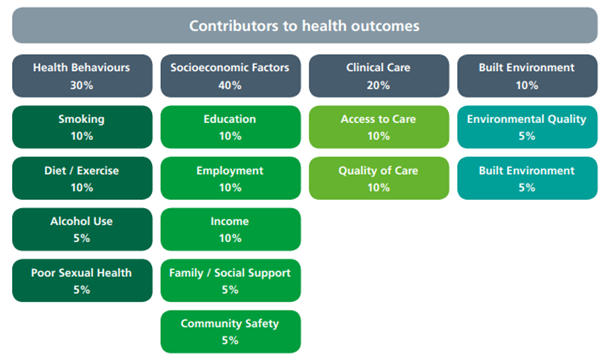 Indeed as the above diagram shows, access to traditional health care services is only a small contributor to overall health outcomes[1]. This is where the idea of using a population health management approach comes from as it allows NHS organisations to outside of the health sector and work in partnership with other groups such as councils and the voluntary sector.
It is hoped that working this way will allow services to be more proactive and joined up for individuals, and help tackle wider systemic issues that cause inequalities and that could not be solved by one type of organization alone.
---
[1] Based on University of Wisconsin Population Health Institute, 2014, 'County Health Ranking model'.